So, regarding the CloudBilling team weekend…
For a lot of people it is not that recognisable for their boss to care a lot about their employee's wellbeing. And honestly, that is such a waste, because their employees already spend a lot of their time and resources just working for them. Luckily for me, I have not experienced this with my current boss whatsoever. At CloudBilling everyone in the team works hard to make the others feel involved. Additionally, we get unique Christmas gifts, have partner dinners, go skiing together and spent an amazing weekend in Durbuy this past November.
Clearly, organising a weekend like this takes a lot of time and effort, so most of our colleagues chimed in to organise some of the activities. Let me tell you, this weekend was organised until the very end, and it was done SO well. None of us could have done this alone, so it was truly a team effort. This weekend had been hyped for months and I can say with absolute certainty that it surpassed everyone's expectations. Everyone came up with original and fun ideas, which made us all have an amazing time. Thank you so much to our entire team who worked hard to organise this weekend and of course a big thank you to the hosts of La Tannerie in Durbuy!
We had an amazing pub quiz, some super cool sports activities, a casino night and even a helicopter drop during this weekend. If this got you curious into what our weekend looked like, you can read the more detailed description of our weekend below!
Friday November 4th
Everyone was stoked since the start of the day, already talking about when they were going to drive up to Durbuy to see the apparently "amazing villa" that had been arranged for us. Another colleague and I already went ahead to receive the keys of the villa, get groceries for the weekend, and of course claim the best rooms for ourselves divide the rooms over every one of our colleagues. It was about a three-hour drive, and we had a lunch in a nice little restaurant halfway. Evidently, this is just me bragging that I got my fancy lunch paid for, but it's still nice to mention. The rest of our colleagues would be driving up to Durbuy at around 3 PM, which would have them arrive (hopefully) at 6 PM to start with the cooking. With all of us we had arranged a three-course meal for which each course would be taken on by another colleague, so we really needed everyone to be somewhat on time.
While driving up to the villa, my colleague and I had plenty to talk about. However, even if you do not talk during the drive, you can spend your time looking around. The landscape in the Ardennes is beautiful, luscious hills with trees scattered over them like little puffs of green, orange, and yellow, in the distance a seemingly medieval castle on the cliff that and a river running down in the valley, and you're driving in the middle of all that spectacle. Especially the fact that not everything is ground level keeps always astonishing me like when I was a child. The little houses you come across look lived in and it seems like the people all know each other in the smaller villages. What it feels like to be away from home.
Once we arrived, we were greeted by the host of La Tannerie, who gave us a tour of the beautifully renovated farmhouse that we rented. In total we would have place for almost 30 people, but since we were coming with less, everyone would be able to have their own room for the weekend. We took a good 45 minutes to see everything in the house, from the social areas, the rooms with attached bathrooms, to the gorgeous new kitchen (with 3 ovens!). We would have plenty of space for all of us to enjoy our weekend here. Due to the tour taking so long, we still had to rush to get all the groceries, clean everything up, and divide the rooms. But two shopping carts, a million different types of snacks and three hours later, we finally could sit down to enjoy a glass of wine.
Just in time for everyone else to arrive. Everyone trickled in a little after six, as expected. Together we made dinner and had a great homemade meal consisting of burrata, curry and tiramisu. Someone seemed to not have been informed of the Italian theme, or great minds just think alike. Either way, the food was great and a very welcome addition to the sheer amount of beverages available during the pub quiz and afterwards. After dinner we got some CloudBilling presents, which were received happily by everyone!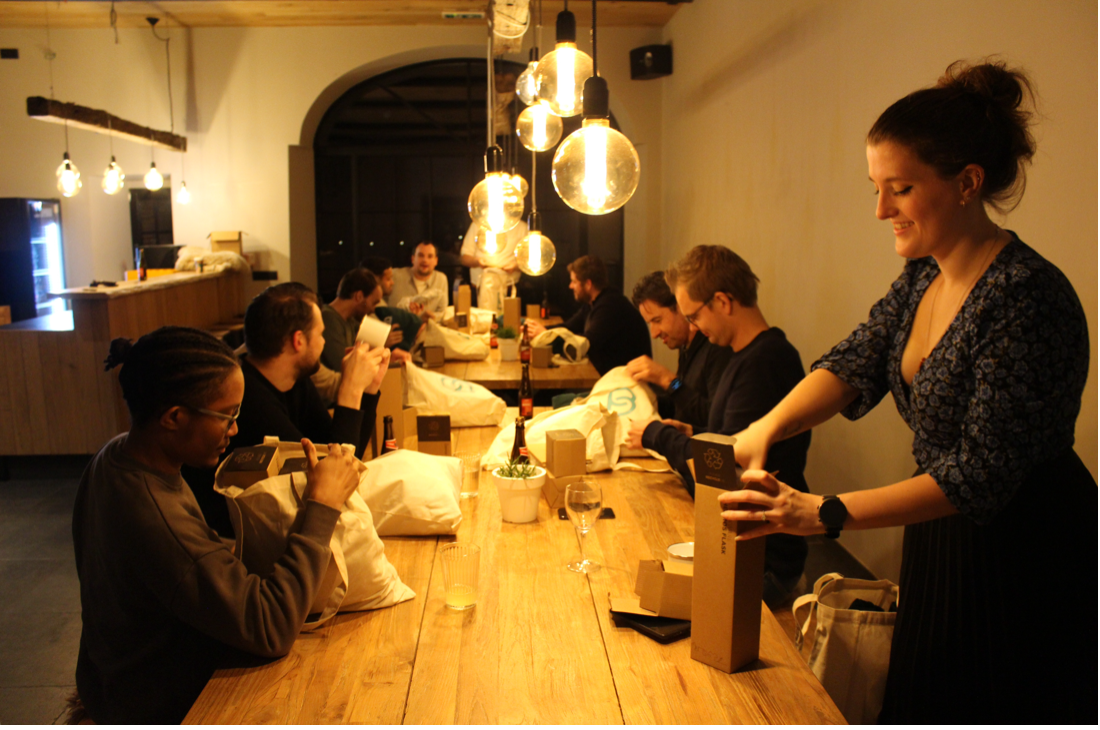 The pub quiz was organised by myself and two other colleagues and kicked off by opening a 1.5liter bottle of champagne. We had some amazing categories like "How well do you know your colleagues", a Food and Drinks round with blind tasting, and a Disco Bingo round in which extra prizes could be won. Most rounds included people screaming at the screen or crying about the awesome "quiz" music that was put on (if you are curious you can find one of the Spotify lists used over here: https://open.spotify.com/playlist/6OIVLGwMk5c1zK3x4jQ55F?si=ef4949f870234f63 ).
Of course, we also had the occasional complaint from Rob that "he could never know that answer". Prizes were won, the final pub quiz prize was awarded, although not to the Team of Rob, and people went to bed. Well, most people. There were still a few brave warriors that decided it was a good day to play games till four in the morning. All in all, it was a very successful evening.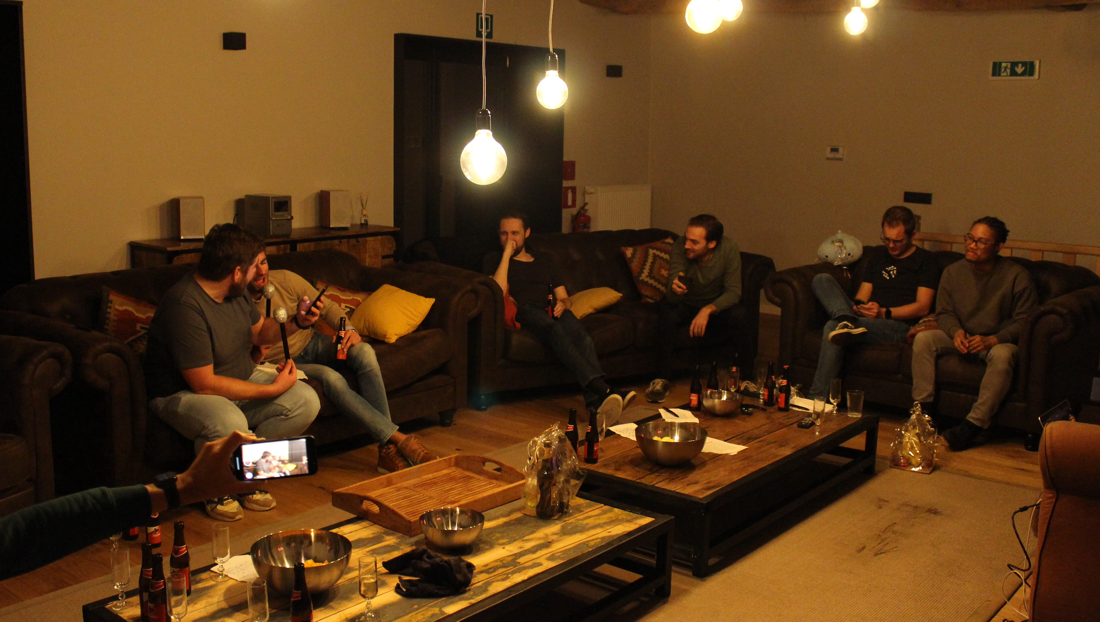 Saturday November 5th
Getting up was hard for me this morning for multiple reasons:
The bed was super nice

But also, I had a slight hangover

And my alarm did not go off due to my phone being dead.
So I was woken up very carefully by one of my colleagues asking me if I would be joining breakfast at all, or whether I was "withering away in there".
But! Once I could drag myself out of bed, I hurried over to breakfast and hoped that there was still some left for me. Some eggs and orange juice, everyone had to get ready to go to our mystery "sporty activity". After a half an hour drive, the first thing we saw at Adventure Coo were the people strumming down from the mountain. When inspecting the place in more detail, we found that they offered a wide variety of different activities that we could be going to do, hence we were not any closer to figuring out our mystery activity.
We were led into the forest by a kind employee of the organisation, and we were told to divide in two teams for, drumroll please, laser tag! Everyone got their guns, coloured hats and off we went. Of course, someone had to make the joke "Did you see these guns though" and point at their gun instead of their biceps. Despite the bad jokes, however, it was great fun. It was blubbery, slippery, and unfair (a lot of spawn-killing happened), but everyone had their winning, and losing, moments.
After an hour or so of running in the forest, screaming at each other for camping in the bushes and becoming increasingly dirty because of the mud, everyone was ready for lunch. We got a very elaborate lunch which gave us some time to get to know each other better. Many surprising hobbies and characteristics of the team were revealed. I will, however, keep these a secret from you, dear reader.
Even more surprising was the fact that we were not going to do one, but two "secret sporty" activities that day. Once everyone was fed, we were told to get our stuff together and gather outside. There they were, 15 e-mountain-bikes in a neat row, a large box of helmets and an instructor with a huge grin on his face. And let me tell you, these bikes were fast and wanted to help you make speed eagerly. Every time it thought you were not going fast enough it would give you a boost immediately. This made the cycling easier of course, but it was super scary going up and down these steep mountains where you are driving on loose rocks and sand.
The views, however, were stunning. As I mentioned before, it was not particularly good weather, but the biking tracks in the Ardennes are something else. From the top of the mountain you could see all these hills and mountains flow over into each other, coloured by the trees and the different types of soil. After some hard work we made this nice picture of (most of) us together at the highest point of our journey!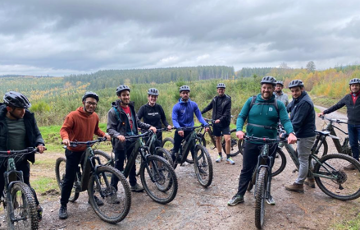 After the amazing ride and a well-deserved drink, we had just enough time to wash up and get ready for our evening activities. We were spoiled with a pizza-chef who prepared our food on the patio followed by a casino night, where we played poker, blackjack, bingo, and other kinds of games. Of course we had cocktails as well and stayed up way too late again.
Sunday November 6th
A weekend flies when you have fun, and when you are so busy doing things that you do not have time to properly think anymore. Of course, someone had to arrange that everyone was fed before our last activity, so I baked about two dozen of eggs (some vegetarian friendly, others less so). As expected, it turned out after breakfast that we bought way too much food, which meant that we also had to decide who took what home. All this before loading everything into the cars and going for our last activities.
You cannot go on a company trip and not do something that might be useful for the team, so we had a brainstorm together on how to make our work more fun. Talks about office monkeys were had and some great ideas came to table which made us introduce the pre-weekend drinks meeting on the Friday evening (great success so far, playing online games together after a busy week is a great de-stressor). Of course, a large part of making our work more fun is increasing the capacity, so if you read this and you are interested in joining our team…
And then, (after lunch) the big surprise of the weekend. We gathered at the last activity and were put in a very large old school bus and told we were going to be dropped on a secret location. Though, after driving for a few minutes, the bus suddenly broke down and we were escorted out of the bus after the driver told us in broken English "Guys, I think we have a problem". Afterwards, it clearly did not actually break down, the guy who was driving us was putting up some theatrics to get us out of the bus. As we were walking further to the "drop spot", we saw a small helicopter in the field. That helicopter was going to be dropping us at location X instead. The best was honestly the reaction of the colleagues who did not yet know that we were going to fly a helicopter. Reactions like "Really?! Are we going to be dropped by a helicopter?" while excitedly (and nervously) laughing, are golden.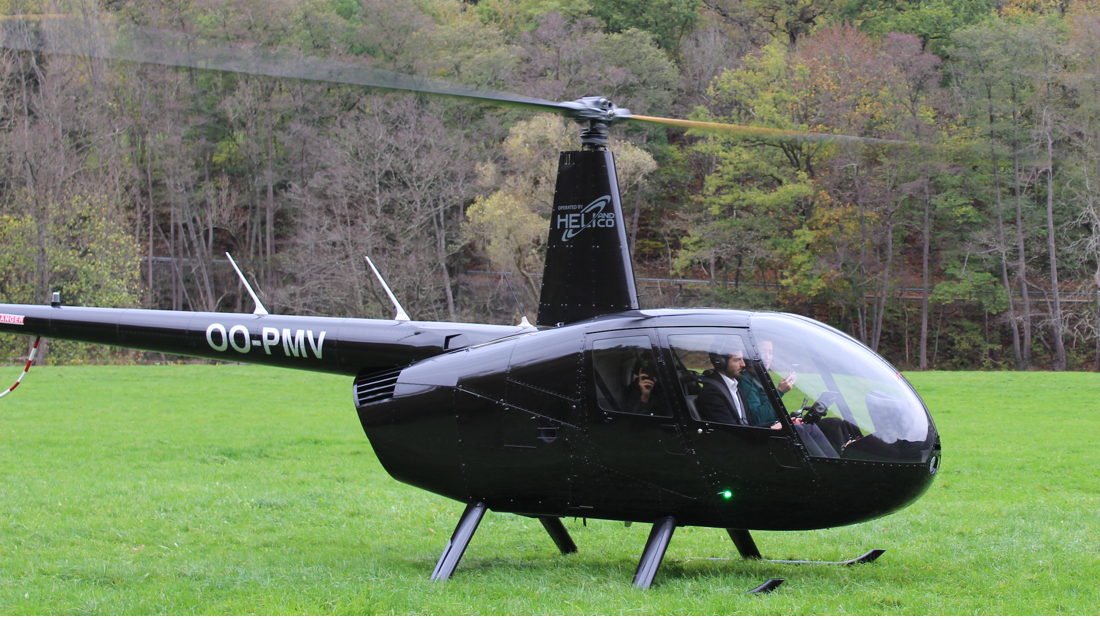 Per two people we were flown to the location from which we needed to find our way back to our starting point. As a true scavenger hunt for adults, we got a map, a compass, and some assignments to do during our scenic walk and we were divided into two groups. The questions were not particularly hard, but we did have to bring back a stone that weighed exactly 240 grams and take an original group photo. Our group was clearly superior, as the other group barely even tried to do these assignments. But! We brought back a stone weighing 241 grams and had this really nice group photo together:

As a prize, we won a nice large bottle of beer, which was gracefully given to the colleague who picked the correct stone.
This weekend was amazing to me, and hopefully also to all my colleagues. I had a great time and am happy to announce that I will be the one organising this year's team weekend.
Thanks for the amazing weekend and the week of free groceries guys. ;)