Pricing rules results
Our Product Team has been working on an update to the Pricing Rule Results tab, which can be reached after clicking the Preview the Invoice button for an invoice.
Subscribe to the CloudBilling Newsletter
The new Pricing Rule Results tab has an improved and clearer layout and offers multiple advantages compared to the old layout:


More results are visible at the same time, less scrolling to see all the items.
When several results have been dropped down, it is much more apparent which results are on the same level.
No tags or metadata are shown for unselected items, which makes the view more crisp and easier to process.
You can select a metadata key or billing output tag to filter your current results for that item, making it easy to find discrepancies or missing tags or metadata values.
This update will be deployed soon and will not affect your billing processes.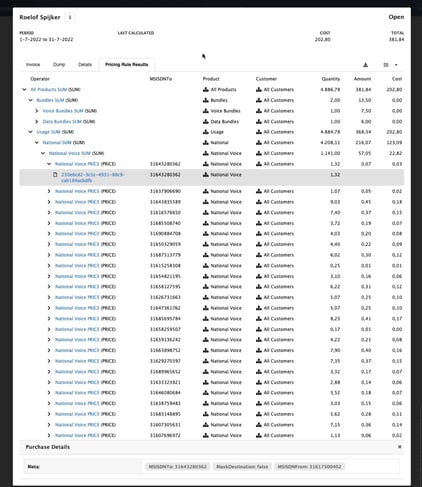 Currently working on
Microsoft Enterprise Agreement

We are currently working on the support of the Microsoft Enterprise Agreement in CloudBilling. We will keep you informed on the deployment and implementation of this feature.

Subscription management

Our Product Team is working on new functionality that will improve the ability to manage subscriptions in CloudBilling. We will inform you of this functionality as soon as we know when this item will be deployed.